With its robust and scalable Spectrum Protect solution, IBM has applied its industry-leading expertise and skills to address today's most pressing enterprise backup challenges. Over the years, the value of enterprise data has grown exponentially in enterprise IT environments — and with it, the need to protect the data. In response, IBM has continued to invest in and develop Spectrum Protect, resulting in a diverse product set that covers enterprise environments better than any other solutions on the market.
But the technological sophistication required for enterprise backup also brings complexity, and many enterprise data custodians don't have the technical skills or time to take full advantage of all of Spectrum Protect's powerful capabilities. In lieu of skilled and technical admins dedicated to the task, enterprises need a solution for intelligent data protection.
And that's where Cobalt Iron's Compass comes in.
As a SaaS backup platform, Compass is an ideal complement to Spectrum Protect, enabling enterprises to orchestrate their data backup experiences without a large, upfront capital investment. Compass' analytics-driven automation tools are designed to optimize the capabilities of Spectrum Protect and eliminate the obstacles of onboarding and operating enterprise data protection. In fact, Compass is such an powerful extension to Spectrum Protect that it was recently named to CIOReview's "20 Most Promising IBM Solution Providers" for 2021.
The Enterprise Strategy Group (ESG) has identified four stages of data protection maturity: Baseline, protecting traditional, on-premises workloads; Cloud-Enabled, which introduces public and private cloud technologies; Data-Intelligent Analytics and Automation, in which backup evolves to a SaaS model with greater automation driven by data analysis/security; and an Autonomous stage in which AI and ML take over to manage and optimize the environment.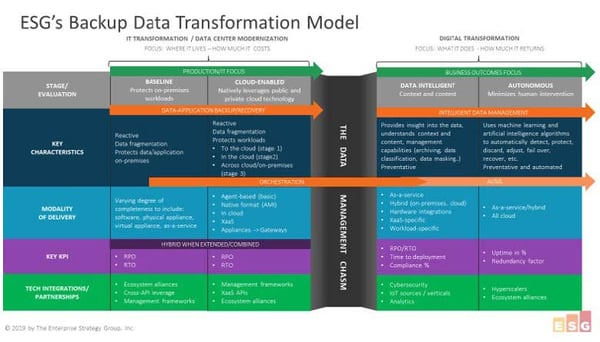 Most enterprises and backup solutions have the first two stages covered, but stages three and four are where true modernization takes place. Those stages are where enterprises experience easier operations and a much greater ROI, and therein lie the real opportunity and value for Spectrum Protect users.
Compass bridges the data management chasm to modernize and transform data backup.
Through intelligent data protection, Compass enables enterprises to achieve the last two stages of the ESG backup transformation model – data intelligence and autonomy. When paired with IBM Spectrum Protect, intelligent data protection modernizes and transforms enterprise backup in the following ways:
Compass adds multi-cloud use cases and maturity to Spectrum Protect, moving users solidly into the fully cloud-enabled Stage Two.
Compass automation, SaaS delivery, cybersecurity features, and orchestration integrations cross the data management chasm and deliver Stage Three of the model.
Compass puts backup on autopilot and regularly optimizes the backup infrastructure and operations based on analytics, thereby achieving Stage Four.
In short, the intelligent data protection of Compass enhances and extends the capabilities of Spectrum Protect through all four stages of ESG's backup maturity model. Best of all, Spectrum Protect customers can access the benefits of these key technologies using their existing software licenses. Besides encompassing all the key elements needed for modern enterprise backup, Compass automatically delivers all of the capabilities of the Spectrum Protect technology. Compass is a pluggable, SaaS-based platform, and Spectrum Protect is one of the technologies plugged into and embedded within it.
In other words, Compass uses software to manage technology.
In the full white paper, "What It Takes to Simplify Enterprise Backup and Get More From Your IBM Spectrum Protect Investment," we take an objective look at Spectrum Protect technology and consider how enterprises can use it more effectively in a new and changing business world. We also cover modernizing and simplifying data protection using legacy backup investments and the key capabilities required to do it: automation, analytics, cybersecurity, multitenancy, SaaS delivery, and multi-cloud support.
To summarize, Compass' intelligent data protection works hand in hand with IBM Spectrum Protect to simplify and modernize enterprise backup so IBM Spectrum Protect users can transform their enterprise backup experience.
< Back to Blog