Do you talk about analytics in your backup environment? Just the term "analytics" can mean different things to different people, and its meaning can vary depending on your role. Sometimes, people think data analytics equals status reports or historical reports.
While reporting is an indispensable tool, the addition of data analytics can drive efficiency and automation in your backup environment. Data analytics could free you from the drudgery of many time-consuming backup functions that are currently handled manually.
Below are the ways Compass, Cobalt Iron's data backup platform, takes your backup metadata beyond reporting and delivers the power of analytics.
Ensure Continuous Vigilance Against Attacks with Cyber Security Analytics
One of the most crucial aspects of backup performance is making certain your data is safe from cyber attacks, ransomware, and other security issues. Unfortunately, products that offer special cyber protection at all often offer a post-attack method of response. But in today's world, your solution should proactively monitor metrics and environmental conditions for indicators of ransomware or other security attacks.
Compass security features continuously study data or deduplication rate anomalies, file type anomalies such as renaming files and abnormal file change rates based on historical statistics, abnormal operational behaviors, and unauthorized access attempts into the Compass Commander portal. The software even monitors any attempts to access any components of the infrastructure environment. Compass "seals" the backup environment by eliminating all direct access to the backup server hardware, operating system, and storage for an extra layer of protection against unauthorized access.
Model Future Growth Using Capacity Analytics
With Compass capacity analytics, you can project when your capacity will run out of space, and run future modeling based on your past growth rates. Compass watches and measures capacity trends at all levels in terms of storage use, monitoring storage growth, and watching the changes in how storage is used. Capacity isn't just about backup storage, either. It includes your network capacities, metadata collected about your data, organizational capacity usages, memory usages, and various caching buffers.
There are many capacity metrics involved in an enterprise backup environment and most companies only bother to monitor one or two of the key ones. Without consistent visibility into comprehensive metrics over time, meaningful analysis of any kind is not possible.
There isn't enough time in a skilled administrator's day to regularly track down all metrics and analyze that data. Alternatively, many companies overprovision their environment leading to higher upfront capital expenses and underutilized resources.
Compass software delivers deep insights into your environment and optimizes the use of your resources.
Performance Analytics Helps Organizations Optimize the Entire Backup Landscape
Compass performance analytics can help you with these questions:
Is storage performing optimally?

Is the backup server performing optimally?

Are backups and restores succeeding and meeting service level requirements?
Compass users access data analytics that can assist teams in assessing their backup operations and knowing what conditions need to be acted upon. Compass analytics also give insights into service levels around backup, restore, network, and other operations. Using the metadata from the actual environment, Compass proactively identifies potential opportunities for optimization within your system automatically.
Anticipate Issues by Tracking Health Analytics
What if you could remediate your backup issues such as drive failures or server problems before they become a problem?
Compass data analytics is designed to examine and analyze infrastructure and operational metrics and metadata with a clear focus on error states, including recurring transient errors and out-of-bounds health metrics. The software uses these data metrics for predictive failure analysis and problem avoidance to keep your data flowing smoothly.
While some backup product options available can reactively respond to errors, Compass customers benefit from a proactive architecture.
Future-Proof Your Data Protection
Monitoring and alerting should be in your arsenal of data protection and analytics. Great solutions internally optimize and proactively avoid problems before they happen. They also evolve constantly and learn to respond to new situations and behaviors.
Through SaaS-based delivery, Compass is continually evolving and learning. New automation and analytics-driven functions are regularly added without disruption to the customer experience. It's immediate and included with your solution without needing any manual upgrades to your servers.
Does your backup product offer these capabilities and insights?
Most backup products provide bare-bones reporting on software and hardware. But putting Compass data analytics to work for you delivers great value, including:
Reduced effort – to free you from mundane tasks

Reduced risk - with automated monitoring of anomalies and inaccessibility to the backup environment

Increased value – that goes far beyond just reporting to give you continual insights into your business operations

Operational excellence – that drives optimization and excellence in your data protection practices
Compass provides a wide range of data analytic tools that proactively identify areas to optimize in the system, and it all happens automatically.
Are data analytics a core function of your current backup product? Learn how your company could benefit from a backup solution harnessing data analytics.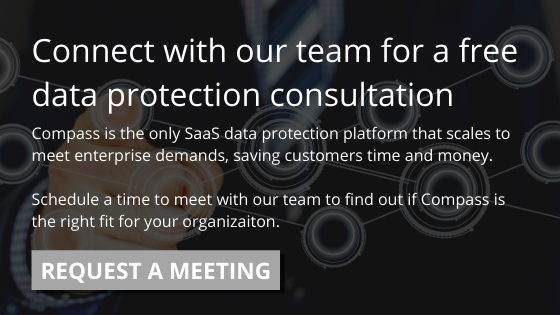 < Back to Blog