LAWRENCE, Kan. — Nov. 13, 2018 — Cobalt Iron Inc., a leading provider of enterprise data protection SaaS, today announced it has added a virtual tape library (VTL) feature to its platform of Compass Accelerators. Intended for enterprises that wish to replace aging, high-priced VTL appliances or physical tape costs, the Compass VTL feature will not only eliminate tape cost and management but will automate VTL operations and connect VTL data to the cloud, all within a unified, end-to-end enterprise data protection SaaS solution. Compass VTL also offers unique disaster recovery (DR) benefits for IBM iSeries users.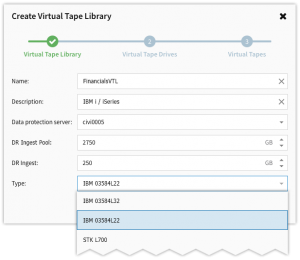 The Compass VTL feature is not a legacy stand-alone VTL appliance but serves as a software-agnostic tape ingest path for the Accelerator. This first-of-its-kind solution is uniquely innovative because it transforms the VTL — ordinarily an appliance that operates outside the data protection workflow — into an integrated component of an end-to-end enterprise data protection solution. As such, it unleashes data from traditional VTL data silos and modernizes the protection of environments that require tape for backup and restore.
Compass VTL also includes unique capabilities that bring special value for IBM iSeries users. It automates IBMi/iSeries DR operations, introduces transparent cloud connectivity, and integrates iSeries backup with other enterprise data protection operations — all while maintaining familiar IBMi/iSeries backup functions.
A component of Cobalt Iron's Compass platform, Accelerators leverage a variety of storage types to deliver Compass' benefits. Compass VTL scales for high performance and multipetabyte capacity, making it ideal for large systems, applications, and databases. Compass VTL supports Fibre Channel connectivity on:
HP/UX
HPE OpenVMS
IBM Power AIX
IBM Power iSeries
Linux on Intel
Windows on Intel
"The VTL market is on the precipice of disruption, where organizations are now being directed to modernize and unify the enterprise data protection environment. Customers still have requirements for tape operations, but they need operational simplicity and cost-effectiveness," said Greg Tevis, Cobalt Iron's vice president of global strategy. "The new Compass virtual tape library feature adds another facet to the Cobalt Iron solution in the form of automated VTL operations and integrated management all within a SaaS-based enterprise data protection platform."
Compass VTL is an add-on feature of Accelerators. It is priced in storage-capacity tiers based on the maximum daily ingest of data.
< Back to Blog