Managing daily backup administration is a headache for many organizations. Managed service providers (MSPs) and large enterprises face even more challenges with multiple locations and organizations that each have unique requirements. With Cobalt Iron's Compass data protection platform MSPs and large enterprises are able to set up access control and chargeback for large, disparate environments on a true multitenant architecture.
Here's how it works.
When you log into the Compass Commander web interface you'll see the structure of the organizations again in the lefthand pane. In this example, corporate entities are split into the Corporate HQ and different geographies. EMEA is broken down further into its substituent countries.
Add organizations to your backup environment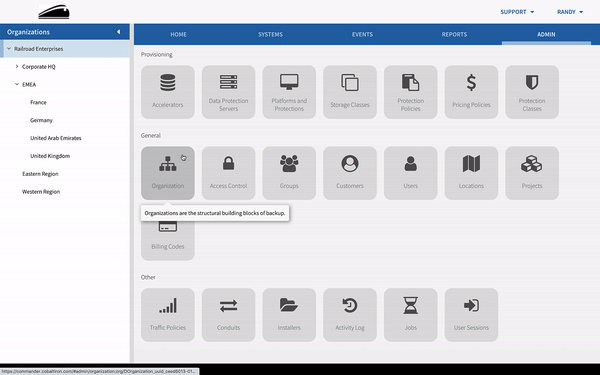 To add new organizations or edit existing organizations click the ADMIN tab and the ORGANIZATIONS tile. Click the edit icon to modify the current organization or ACTIONS to create new organizations. Here you can set security, billing, and other policies for the organization.
In "admin" and "access control" you can set which user access classes and roles have access to the organization on the left.
When you click through the access class itself, you can see what permissions are granted to users with that role or if a user has been given access further up the organizational tree.
From the "admin" pane, click the "users" tile to view which individual users have permissions at the selected organizational layer. Users role and group, can be made inactive at the flick of a switch.
Through access control functions you can easily configure which users can see what systems and all other resources at each level of your organization. For MSPs, this means tightly locked down security in a fully multi-tenanted backup landscape.
Calculate chargeback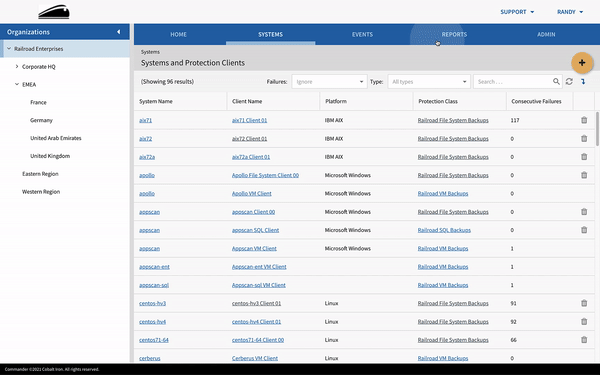 For calculating chargeback, the trusted MSP admin can run one occupancy report to find data usage for all of their customer organizations.
Compass from Cobalt Iron allows MSPs and large scale enterprise customers to easily set up a highly secured, multi-tenant environment.
Now your team is empowered to finely tune your backup landscape by assigning roles and privileges while leveraging occupancy reporting to inform chargeback.
Compass stands apart from the pack with architecture that supports large environments with true multitenancy – not multilicensure. If your organization needs to easily manage multiple internal or external customers, Compass features give you the ease-of-use and transparency you need for consistent, secure, transparent backup operations and infrastructure management.
Download our orchestration feature sheet for details on the Compass architecture.
< Back to Blog