Managing their diverse data protection environments is an increasing challenge for organizations. It's not uncommon to find upwards of four or more products being used to manage the servers, operating systems, backup software, backup storage, and other infrastructure associated with the data protection operations across an enterprise. And if you are managing geographically disparate environments, you might be using many more interfaces than that.
Managing so many products not only consumes too much of a backup administrator's time but introduces tremendous risk to your enterprise data landscape.
Complex backup environments need a different approach to data protection
Cobalt Iron Compass is a true enterprise data protection solution that approaches data protection differently ­– allowing you to use a single interface, the Compass Commander, to manage all of your data protection infrastructure and operations – regardless of the workload or the location.
Managing your data protection environment using the Compass Commander
The Compass Commander is a web interface accessible on any web browser. Customers can even use two-factor authentication or directory services for secure logins.
Once logged in to the Commander you are presented with a high-level health check of your data protection operations, including the amount of data protected over different periods, the number of successful jobs, and the events that really need your attention – jobs that might have failed.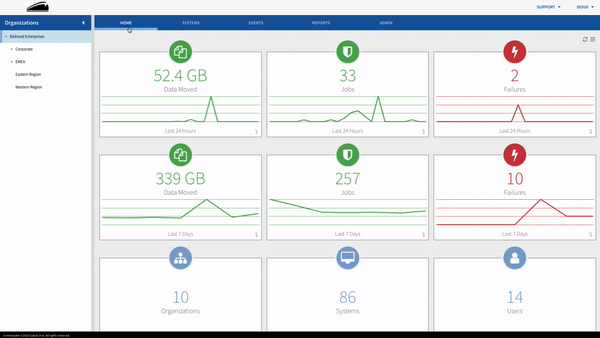 This level of visibility across your enterprise enables you to manage by exception and focus your attention on what matters.
Depending on your level of access, you may see the entire organization, which can span many geographic locations, or be restricted to a portion of the organization.
When you choose a level of the organization for detailed insights, the dashboard automatically updates to give you the appropriate view into that organization. These multitenant and granular capabilities are just two reasons why large enterprise organizations and managed service providers love using Compass.
Navigation through the Commander is easy and intuitive. Organizational navigation in the left-hand pane. Across the top, navigation tabs for Systems, Events, Reports, and general System Administration appear.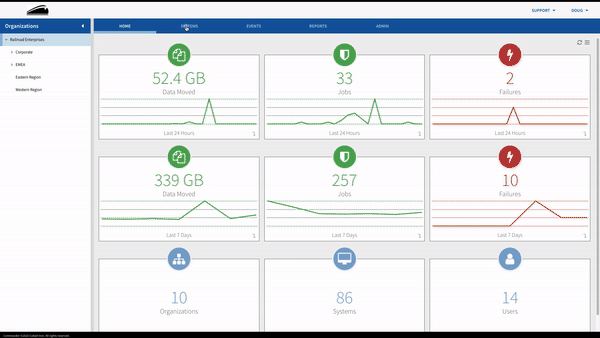 Systems will show you all of the systems being protected at the selected organization level.
Events display the activity within the organization, including successful and unsuccessful backups.
Reports give you access to schedule or run one of the many standard reports included with your Compass subscription.
System Administration is where you can fine tune such things as backup policies, retention, and a many other pre-configured tunables.
Regardless of how large, or small, your environment is, the Compass Commander interface enables you to manage it with comprehensive efficiency from one location. No more guessing how your backup operations are going, because with Compass Commander you know. The pains of managing backup infrastructure and operations are transformed into a business outcome experience.
There are a lot of things that make your job difficult – managing your backup environment doesn't have to be one of them. Learn more about Compass with a free environment assessment: Schedule a meeting today
< Back to Blog