So you've just become a Cobalt Iron customer. Or you are getting on-boarded as a new user in Compass™. Maybe you are curious what it's like to go from spinning up your Accelerators to your new day-to-day backup administration workflow (it will be pretty different). However you got here, welcome to the Cobalt Iron family, we are glad to have you. Here is what you can expect...
The Compass Experience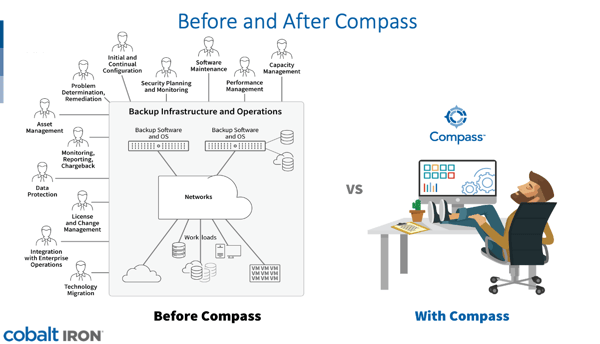 Your Accelerators are humming and your backup is protected by the best in the business, so you might be wondering…now what? How do you put this new software to work for you?
Every backup environment is unique, but Compass' user-friendly, web-based interface, Commander, can be configured to work the way you need it. Access is role-based, so you can create groups of users such as service providers, managers, or admins. Each group gets an experience tailored to fit their needs. Some groups of users may only need to view events or run reports, while management users may need to control user access.
Users can log in and get started on the Commander dashboard. The layout features a navigation bar at the top. The first row of tiles displays your daily status tiles, the second row your weekly status tiles, and the final row your organization and resource tiles.
From this page you can explore your backup events, investigate failed events, or go into more details with options like Reports or Analytics, depending on your role.
Compass Knowledge Base
While Commander is built to be user-friendly, you might have questions about what this software service can do, or how to perform some functions. Commander features a knowledge base with commonly asked questions and information we think may come in handy.
You can access the knowledge base from within Commander using the Support dropdown arrow found in the top right of your screen.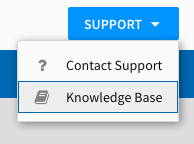 Compass users can also log into the knowledge base site directly at https://help.cobaltiron.com.
The streamlined database is designed for quick access to the information you are looking for: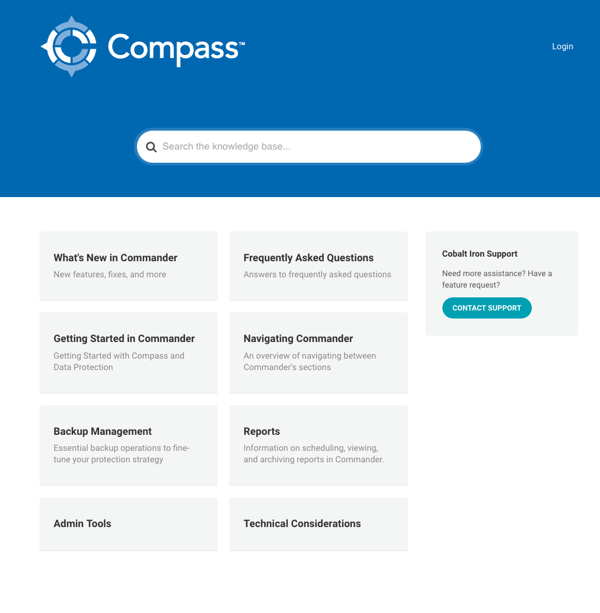 Getting Started Using The Compass Commander
As a new user, begin with Getting Started in Commander. This section is full of topics that serve as references, handy even after you are a regular Commander user. You'll get more information on navigating the Commander Dashboard, as well as Icons and Key Terms.
Move on to Backup Management for how-to information on backup schedules and systems, Backup Management for details on setting backup schedules and features, and Reports for instructions on handling the existing reports that were customized to your needs and are already included in your Commander interface.
Find Compass Product Updates and Release Notes
Once you are an expert user, keep up with What's New in Commander.
You'll find the latest Release Notes detailing the upgrades made in the last software update, as well as new features recently added to the knowledge base. Cobalt Iron releases enhancements and updates as often as ever two weeks, so there is always something new.
We also feature a section on Admin Tools for Admin users, and Technical Considerations for the geek in all of us, with information on topics such as physical capacity of Accelerators, VTL features, and supported platforms. When you are ready to upgrade or expand, this is a handy reference.
Find Information and Support On-Demand
The knowledge base also provides a search bar to quickly find topics. If our topics don't answer your question, Support is just a click away on the right side of the main screen.
As Compass features evolve, the knowledge base will expand, but it is not intended to detail every aspect of the Commander tool. For in-depth information, our support team is still your go-to font of information. If there is a topic you would like to see added, contact us. We are happy to consider your desired topics and look forward to making the knowledge base a reliable source of Commander how-to information.
Compass users can log in now and get started now.
Not a Cobalt Iron customer yet? Schedule a free, no-obligation evaluation of your backup environment needs here.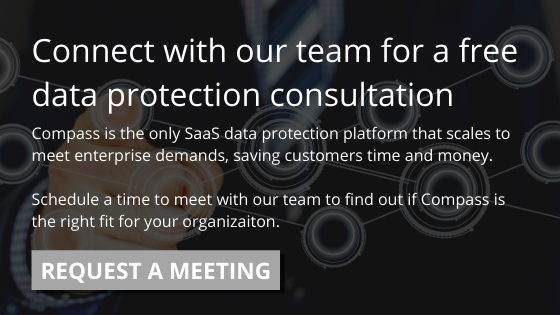 < Back to Blog